Our kiteschool offers kite lessons all year long as well as adapted options ! The Mediterranean sea offers wonderful weather conditions; with over 250 days of wind each year, the Almanarre spot is ideal to learn kitesurf. This is why we exclusively work in the Almanarre Bay to offer you the best conditions possible, especially a steady wind !
How is a kitesurf lesson conducted ?
The kitesurf lessons last 3h30 and are held in the morning, the afternoon or the evening. The schedule is set the day before so that you can enjoy the best wind timing possible.
The groups are composed of 4 learners and one person benefiting a lift from the boat.
All the equipment is included : kite or wing, board, as well as the wetsuit, harness, life jacket, and helmet.
Changing rooms are at your disposal not only to leave your personnal belongings but also to take a hot shower after your session.
The lessons are taught directly in the water, off-shore, from engined boats with one gear per person (no lessons in front of a white board nor with basic kites).
All advices are personnalised to the level of every participant (from the beginner to the advanced).
The instructors are radio-linked with the other instructors and the school.
You will have full access to the club, can eat with the team or watch pedagogic videos.
Kitesurf lessons
From the first kite driving session to the autonomy.
Kiters autonomes
Des formules spécialement conçues pour les kiters autonomes : raids, déposes et location de matériel.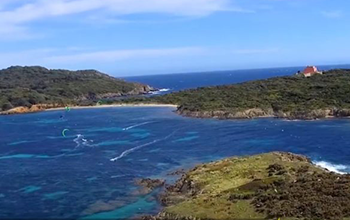 Raid Kitesurf
Raids kitesurf à Porquerolles, inscrivez-vous pour être informé de nos raids.

Devenez membre MF Kite et naviguez toute l'année !
Découvrez nos formules d'abonnement à l'année.
Kite Camps
Des sessions pour les jeunes, des Girls Session et des coachings kitesurf à l'étranger !